A propos de l'auteur jcb21dij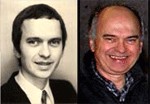 Site Web : http://stationnsu.e-monsite.com/
Pays : France
Ville : REMIREMONT
Code Postal : 88200

Quelques mots sur moi
1962 - 2006... 44 ans après !
1962 - 2006 ... 44 years later!

Mes centres d'intérêt
La Nature, La Photo, La Musique ... Je joue de la guitare, du piano (ainsi que de l'orgue électronique)... Nature, Photo, Music ... I play guitar, piano (and the electronic organ) ... Et bien sûr, NSU et l'Automobile en général ! And naturally, NSU and the Automobile generally !
Mes films préférés
Tous les films de / All films of Louis de Funès... "Passion sous les tropiques" ("Second Chance" in english/ en anglais - Réalisé par / Realized by: Rudolph Maté. 1953, (film d'actions qui se passe sur un téléphérique au Mexique / Action movie which takes place on a cable railway in Mexico) avec / with Robert Mitchum, Linda Darnell, Jack Palance, etc)... et les films dans lesquels ma Mère Stéphanie Ségarra (Epouse de Jean Bouvarel) a tourné aux Studios de la Victorine à Nice, Côte d'Azur, France ...And films in which my mother Stephanie Segarra (wife of Jean Bouvarel) turned to the Victorine Studios in Nice Cote d'Azur, France
Mes musiques préférées
Le Blues, Jazz, R'n'B, Rock'n'Roll, Hard-Rock, Be Bop, Bossa Nova, musiques latino-cubaines... Classique... The Blues, Jazz, Rock, Rock'n'Roll, Hard Rock, Be Bop, Bossa Nova, Latin-Cuban music ... Classic ...
Mes livres préférés
Tout sur Charles de Gaulle... Le Blues, Le "Rhythm and Blues", le Rock... L'Histoire… (de France, du Monde, de l'Humanité)… Les reportages photographiques et vidéos sur notre planète Terre ! Un de mes livres préféré : « Une saison blanche et sèche » d'André Brink… "De Gaulle - Malraux, Une histoire d'amour" de Christine Clerc (Octobre 2008) Everything about Charles de Gaulle ... The Blues, The Rhythm and Blues, Rock ... History ... (France, World, Humanity) ... The photos and videos on our planet Earth! One of my favorite books: "A dry white season" Andre Brink ... "De Gaulle - Malraux , A love story " by Christine Clerc (October, 2008)